Today we talk about how you can get performance from the workflows that you have integrated into
Abcore Cadí
to create events, news and bulletins without having to rewrite the text of the event in each of the three sections.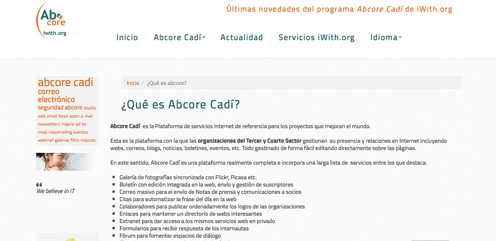 We tell you below, step by step:
Step 1: Create an event by filling in a simple form.
Abcore Cadí will place the event on the calendar, geolocate the place on the map, put it on the list of events, create the event page, and if you want it will be on the front page as long as it is one of the upcoming highlights.
Step 2: translate (without redesigning)
If your website is in several languages, you will not have to create the event again from scratch for each language. The translate button will leave you a perfect copy with your layout, your links and your images, and you will only have to edit and translate the texts.
Step 3: make news
When you attend the event you will probably have taken pictures and you will want to explain it in a news item. The "make news" button will save you working by copying all the data in the news directory, and you will only have to add your Flickr album, for example, retouch the text with your chronicle and forget to write the date the title and the introduction again that you had already written to the principle.
Step 4: newsletters
You already have the event and the news made. It's time to add the news to the newsletter for your subscribers to receive it.
Once again, Abcore Cadí saves you the job of writing again and allows you to place the news you have already made in the bulletin box.
And with this, everything is ready. With these steps you save and optimize time in the strategic communication process of your organization.
What do you think of Abcore Cadí's integrated workflows?
If you want to see the details about the tutorial, click here.